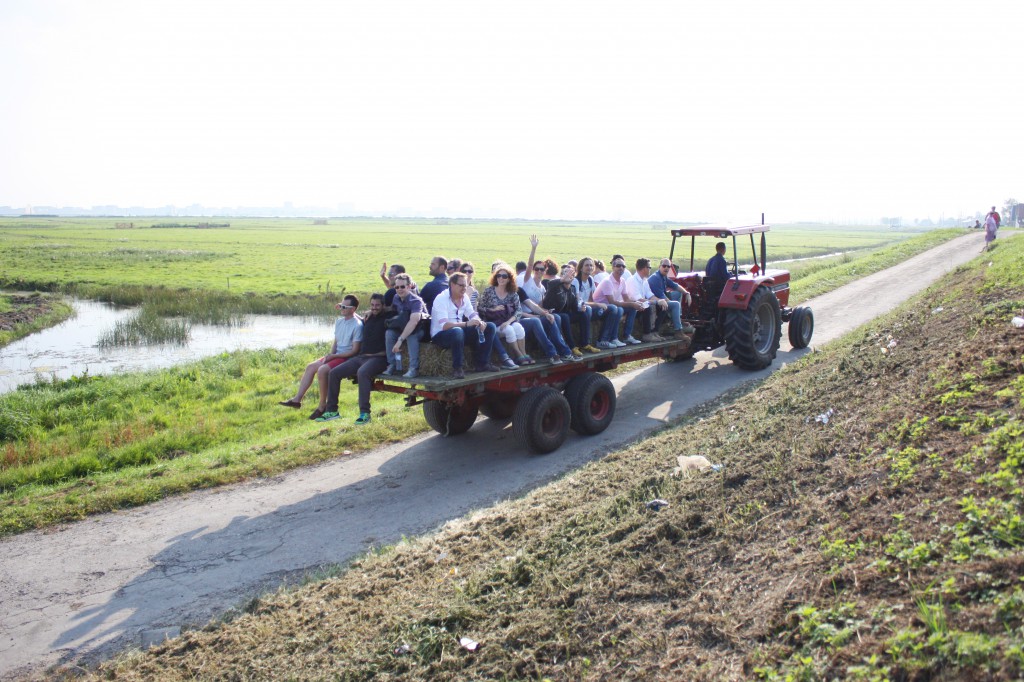 Are you looking for an exclusive day waar you can relax, sail a historical boat, have a teambuilding activity and a very unique 3 course biological dinner in an old Dutch farm restaurant?
The team will come on board of a Historical Dutch boat in the harbour of Amsterdam to sail for a two hour trip. From the harbour the boat will sail on towards the island of Pampus and Vuurtoren island. Both part of the old Amsterdam defence lines. On Vuurtoreneiland we will get of and see the old fortress. Here the history of both islands can be explained.
From Vuurtoreneiland we will enter the prohibited nature area "Ijpolder" together with a guide from nature reservation of the netherland. We will have a walk of 20 minutes through the protected area and maybe spot a Flamingo or two. After a 20 minute walk we will arrive in the village of Durgerdam. Here local farmers are waiting with their special Dutch transportation. The team will get on for a 20 minute polder tour and arrive at a old Dutch farm.
In the hayloft of the farm is a burgundian restaurant. Here the team can relax inside or outside on the terras and enjoy the beautiful landscape. Meanwhile de main course is prepared (biological Pig or Lam on the grill, large Norwegian salmons on the wood grill).
Before the dinner starts, team will have the opportunity to attend a teambuilding activity "create your own space". Materials like wood, hay stacks, pillars, pillows, fireplace and wood, glasses drinks and funny Photo Booth are provided. With these materials the team can build an own lounge cocktail bar outside in the field and relax.
After the dinner inside, the team can have a seat outside in the build bar. the team of experiencewaterland will have build a large fire and around it a circle of straw bales to sit on. Here there is time to enjoy a drink, see the sunset or have a wrap up done by the teamleader or Experiencewaterland. At a specifically set time, the team will be picked up by bus and will be brought back to the set location.
This day will be fully aligned with your demands, set times, location to pick up and return, menu, moments for presentations, different opportunities for teambuilding.
Book this tour or more information: please send us a request